Colombia's heritage towns, Part 2: Barichara.

Colombia is full of stunning little towns filled with history, beautiful architecture, and local charm—the Colombian tourism ministry has even created a network of 17 Pueblos Patrimonios (Heritage Towns), bringing them together under one banner. We will introduce you in this serie to these 17 stunning heritage towns.
Today: Barichara
Famously known as "the prettiest town in Colombia," the stunning little pueblo of Barichara in the Santander department definitely lives up to its reputation. Its cobbled streets, whitewashed walls, and red-tiled roofs are any Hollywood filmmaker's dream. Unlike many other towns on this list, Barichara's beauty doesn't exclude any of its neighborhoods. Getting there is an easy 35-minute drive from the adventure sports capital of San Gil and makes for a great day trip. The town is located 20km northwest of San Gil, high above the Río Suárez. Founded in 1705, its natural beauty, temperate climate and bohemian lifestyle have long attracted visitors. In recent years Barichara has become a magnet for affluent Colombians. Compared to Villa de Leyva, Barichara is more upscale but less touristy. It is, without a doubt, one of the most beautiful small colonial towns in Colombia.
Not to miss:
Parque Para Las Artes
A lovely little park decorated with impressive water features (although they were out of service when we visited), statues carved by local sculptors and an outdoor amphitheater that occasionally hosts live music concerts. From the park you can enjoy breathtaking views of the neighboring valley.

Taller Centro Dia
Inside the courtyard of the Museo Aquileo Parra, this collective of 24 senior citizens weaves bags and other artisanal products from fique fibers using traditional looms.
Capilla de Jesús Resucitado
This humble pale-yellow chapel has a fine baroque mahogany altarpiece. The original bell tower was damaged by lightning but has since been restored. Do try and visit the cemetery next to the chapel, noted for interesting tombs elaborated in stone, which you can see from the entrance even when it's closed.
Catedral de la Inmaculada Concepción
This 18th-century sandstone church is the most elaborate structure in Barichara, looking somewhat too big for the town's needs. Its golden stonework (which turns deep orange at sunset) contrasts with the whitewashed houses surrounding it. The building has a clerestory (a second row of windows high up in the nave), which is unusual for a Spanish colonial church.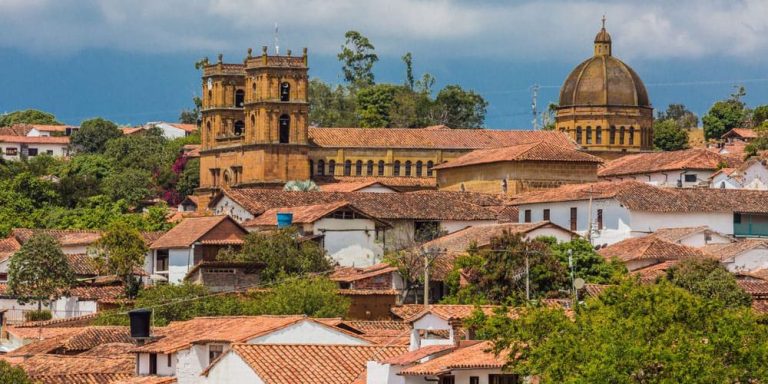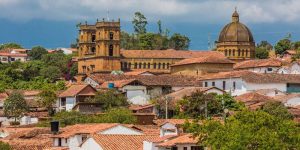 Iglesia de Santa Bárbara
Atop a hill at the north end of town, Barichara's oldest church was carefully reconstructed in the 1990s (only the facade survived). The floor has quite a steep slope from the main doorway up to the altar. Out front there's a magnificent old ceiba – one of the oldest trees in town.
Capilla de San Antonio
Capilla de San Antonio is the youngest of the town's churches, dating from 1831.
BertJan & Maria Emilia
Die Sonne Hospederia Villa de Leyva
More info:
www.diesonnehospederia.com
[email protected]
https://www.facebook.com/diesonnehospederia